« La peine de mise en conformité » dans le projet de loi Sapin II : l'habit est beau, mais il a été mis à l'envers! »
---
Publications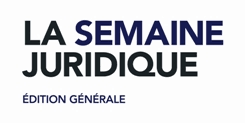 Draft law AN n° 3623, 30 mars 2016
Short overview – J.-M. Brigant
The removal of the deferred prosecution agreement from the draft of French Law Sapin II has already caused a lot of ink to flow. This type of agreement was in the draft version of the law communicated to the Conseil d'Etat but absent from the draft version addressed to the National Assembly. The adoption of this type of settlement agreements is indispensable to allow French prosecutors to be on par with their foreign counterparts, and therefore to defend their sovereignty and French companies. 
Emmanuel Breen, la Semaine Juridique, 6 juin 2016.
To read the full article in French, click ici.